The Dobber Hockey Prospects Report is now available in the Dobber Shop! Help support what we do by picking up your copy. It is loaded with stats, projections, and profiles, which should help scratch the hockey itch until playoffs return.
*
The NHL has set this Friday, June 22nd, as the date for the draft lottery. It's not the actual *actual* draft lottery, but the first step. They're calling it a phase, as if the draft lottery were wearing black paint on their fingernails listening to nothing but Slipknot. Whatever they want to call it, we'll know the top of the draft order this Friday night.
*
Speaking of the draft, Bob McKenzie released his top-93 players for the 2020 draft. I only mention it because it's another source from which to form your opinion. Our prospect guide is a great resource for exactly this as well. Why not peruse through The Bobfather's rankings and compare against ours to see where there may be similarities or differences?
*
Chris Thorburn announced his retirement from the NHL on Monday. Though he ends his career in the middle of a pandemic, his final act in the NHL was raising the Stanley Cup with St. Louis. As far as careers go, not a bad way to finish things.
Thorburn was known more for his physicality than his scoring, but that made him a fantasy option in multi-cat leagues at times. He ends his 801-game career with 53 goals, 134 points, and 968 penalty minutes.
*
Charlie Roumeliotis is a Blackhawks reporter for NBCSN and he wrote about Marian Hossa's Hall of Fame induction chances.
I don't see any way he's not a shoo-in immediately. There are 21 wingers in NHL history with at least 500 goals and 500 assists, and he's one of them. Of those 21 wingers, 17 are in the HOF, and the four that aren't are Hossa, Jarome Iginla, Jaromir Jagr, and Alex Ovechkin. He had three 40-goal seasons, eight 30-goal seasons, four 80-point seasons, and despite all that offensive prowess, he's known as one of the best defensive wingers of his era. Add in three Stanley Cups, and being first ballot should be an automatic.
Remember the Savard-Hossa-Kovalchuk line in Atlanta? Or Alfredsson and Hossa skating together in Ottawa? What a talent.
*
My last few Ramblings, I've been going over each play-in matchup one at a time. The basic idea is that it's been over three months since we've seen NHL games. Aside from some injury stuff and the NHL's Return To Play plan, there hasn't been much in the way of news, either. It would be easy for fans to have a hazy memory of the 2019-20 season, especially if playoffs don't start for another couple months. I thought it would be worth reminding everyone how each team fared throughout the year, the performances of key players, whatever injuries they may still have, and what we might expect in the play-in rounds. Previous Ramblings:
Most stats from Natural Stat Trick and Dobber Tools. We'll finish off the West with Calgary vs. Winnipeg.
One thing to be thankful for in the 24-team playoff format is that almost every Canadian team made the postseason (sorry, Ottawa). In recent years, we'd have one or two teams, sometimes none, and now we get six. While Calgary and Winnipeg are not the mortal enemies that Calgary and Edmonton are, it should still help the respective fan bases get engaged early.
Calgary
In general, the Flames took a step back from the 2018-19 squad. Last year, they were third by points percentage and eighth by expected goal share in the league. This year, they come into the postseason 19th by points percentage and 17th by expected goal share.
Most of the letdown can be laid at the feet of the top line. This year, the trio of Johnny Gaudreau, Sean Monahan, and Elias Lindholm combined for 160 points in 210 combined games, or 0.76 points per game. Last year, they combined for 259 points in 241 games, or 1.07 points per game. That is a drastic drop, and explains why their team goals per game in that year span dropped from 2nd in the league to 20th.
Even when the team was winning games, they weren't playing like an elite team. Following a loss to St. Louis on November 21st, the team fell to 10-12-1. After that point, the team went 26-15-4, or a 102-point pace for over half a season. In that span, they were 16th by expected goal share, worse than San Jose, a non-playoff team this year. Two things helped them a long: a top-10 power play in those 45 games, and top-10 goaltending by 5-on-5 save percentage. Average teams with top-10 special teams and top-10 goaltending can be dangerous, and that's what Calgary is.
The question is this: if Calgary can play as a top-10 team without the top line really playing like a top line, how good are they if that top line figures it out?
What had made Calgary dangerous when they are firing on all cylinders was having a top line that can score at will and a second line that is elite at both ends of the ice. Matthew Tkachuk had a good year again and Mikael Backlund was solid, while Andrew Mangiapane had a breakout of sorts; he was second on the team in goals/60 at 5-on-5 this year. If the top line figures it out, they have their formidable top-6 back, and that means a very good Calgary team.
What could make the difference for them is their third line. The trio of Milan Lucic, Derek Ryan, and Dillon Dube had an expected goal share this year over 52 percent and an actual goal share over 66 percent. They shouldn't be relied upon for two-thirds of the goals when they're on the ice, but if they can maintain over 50 percent, that gives this team a deep lineup.
The defence is murky, unfortunately. Mark Giordano won the Norris Trophy last year but his play fell off considerably in 2019-20. He was still good, just not Norris-level good. Rasmus Andersson took a step forward this year but Noah Hanifin took a step back. T.J. Brodie was solid and they did add Erik Gustafsson. When looking at those names, it's not hard to envision this team having a solid puck-moving blue line that can transition this team from defence to offence. It's a matter of getting everyone playing to their potential at the same time.
Calgary has a goaltending problem. David Rittich is supposed to be the goalie of the future, and he was fine this year, but Cam Talbot was much better by almost any measure: WAR, save percentage, Goals Saved Above Average, you name it. In the team's 10 games leading to when the season was suspended, Talbot had started five and Rittich had started five. Whichever goalie is hot will start, and I'll lean Rittich for Game 1, but a best-of-5 is no time to have to worry about goaltending.
I haven't seen an update on Travis Hamonic's knee injury, but he was set to return just before the season was suspended. He should be ready to go. Ditto for Hanifin.
Winnipeg
If there's one advantage for the Jets, it should be in goal. Now, saying either team in a best-of-5 has the goaltending advantage is precarious because goalies vary a lot season-to-season, let alone in five games. But Connor Hellebuyck was a Vezina-calibre goalie, and I've talked about his Hart Trophy case before in these Ramblings. He's elite, and he'll need to be.
Winnipeg is a bad defensive team. Rather than spouting off stats, let's look at the visual evidence. From Hockey Viz, here's the heat map of shots allowed by the Winnipeg defence at 5-on-5 this year. Red areas are where they allow shots at an above average rate, and the darker the red, the more shots they allow:
Doesn't seem great!
By contrast, here's their opponent, the Calgary Flames, and keep in mind the Flames weren't an elite defensive team: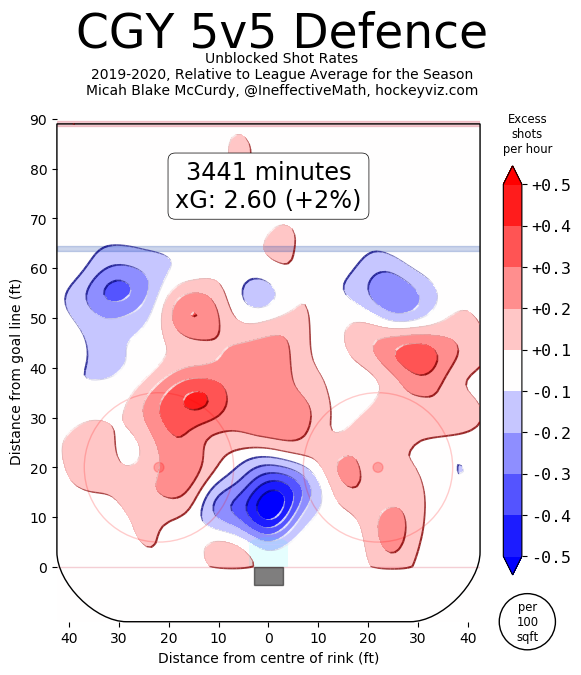 Now do we see what Hellebuyck has been working behind all year?
And Hellebuyck did go nuclear. I wrote about his Hart Trophy case here. Despite the abysmal defensive team, they were never below .500 after October. He was the difference-maker for them in the regular season, and he can be that again in the playoffs.
What Winnipeg does have is a lethal top-6 and a good power play. Mark Scheifele was over a point per game again, Kyle Connor probably would have cracked 40 goals had we finished the year, the same could be said for Patrik Laine and 30 goals, while Nikolaj Ehlers was two points away from giving the team five different 60-point forwards in a shortened season. That's a lot of potency, but it's also about where the sunshine ends for Winnipeg.
The team has been without a good second-line centre all year and that forced Blake Wheeler to take up the role. They traded for Cody Eakin, but he's certainly not a second-line centre on a team that is in its Cup window. They could use Andrew Copp there, but that would greatly weaken a third line that needs help already as it is; Mathieu Perreault is not the player he was five years ago, Jack Roslovic is fine but at best a third liner right now, and Adam Lowry had a tough year health-wise. In short, the team has a great top line, a second line with a glaring hole despite great wingers, and a third line that is unreliable at best. That's a middle-six that could get exploited by the depth of the Flames.
Winnipeg's narrative is the blue line. They lost Dustin Byfuglien, and teams don't just replace a number-1 defenceman. Neal Pionk had a decent year, emerging as the team's PP quarterback, and Tucker Poolman had a nice rookie season. Josh Morrissey struggled a bit without Byfuglien and Jacob Trouba around, though. It's obvious the glaring weakness is this team's blue line. I like Morrissey, but it's still unclear how many actual top-4 defencemen the team has beyond him.
The big injury to discuss is whether Bryan Little can return. He underwent surgery on his ear drum in February and was given a three-month timeline. We're obviously beyond that now, but there hasn't been an update from the team. For now, I'm assuming he can return, but what level he's capable playing is another matter entirely.
On the surface, this should favour Calgary handily. The have the deeper forward group and a much better blue line. Goaltending, as always, is the great equalizer, and Hellebuyck is more than able to steal a best-of-5 series. If Calgary fires on all cylinders, though, they should roll through Winnipeg and could be a Cup contender coming out of the West. Having potential and living up to it are two different things, though.
window.fbAsyncInit = function() { fusion_resize_page_widget();
jQuery( window ).resize( function() { fusion_resize_page_widget(); });
function fusion_resize_page_widget() { var availableSpace = jQuery( '.4' ).width(), lastAvailableSPace = jQuery( '.4 .fb-page' ).attr( 'data-width' ), maxWidth = 268;
if ( 1 > availableSpace ) { availableSpace = maxWidth; }
if ( availableSpace != lastAvailableSPace && availableSpace != maxWidth ) { if ( maxWidth < availableSpace ) { availableSpace = maxWidth; } jQuery('.4 .fb-page' ).attr( 'data-width', availableSpace ); if ( 'undefined' !== typeof FB ) { FB.XFBML.parse(); } } } }; ( function( d, s, id ) { var js, fjs = d.getElementsByTagName( s )[0]; if ( d.getElementById( id ) ) { return; } js = d.createElement( s ); js.id = id; js.src = "https://connect.facebook.net/en_US/sdk.js#xfbml=1&version=v2.11&appId=227961034906339"; fjs.parentNode.insertBefore( js, fjs ); }( document, 'script', 'facebook-jssdk' ) );
Credit: Source link